Aug 30, 2016
When the plane landed in Shanghai, I didn't really know how to feel. I was about to spend the longest amount of time I had ever spent alone abroad. I had been to China before, and I had studied Chinese, but I had never tried to actually be productive in Chinese. Arriving for about a two-month internship at Junior Achievement China, I didn't know what to expect. I knew that I would be working at an education focused NGO, but I had no idea what my day-to-day work would look like.
Despite my initial nervousness, my summer surpassed all of my expectations. Working at Junior Achievement, an NGO that focuses on educating the youth of China by offering principle-based business education, I not only had the opportunity to practice my Chinese daily, I learned important business and organizational skills. Junior Achievement China's Shanghai office is relatively small, so my fellow intern, Melissa Li and I were able to take a lot of responsibility and participate in various projects. We organized information on sponsorship proposals, as well as focusing on grant applications.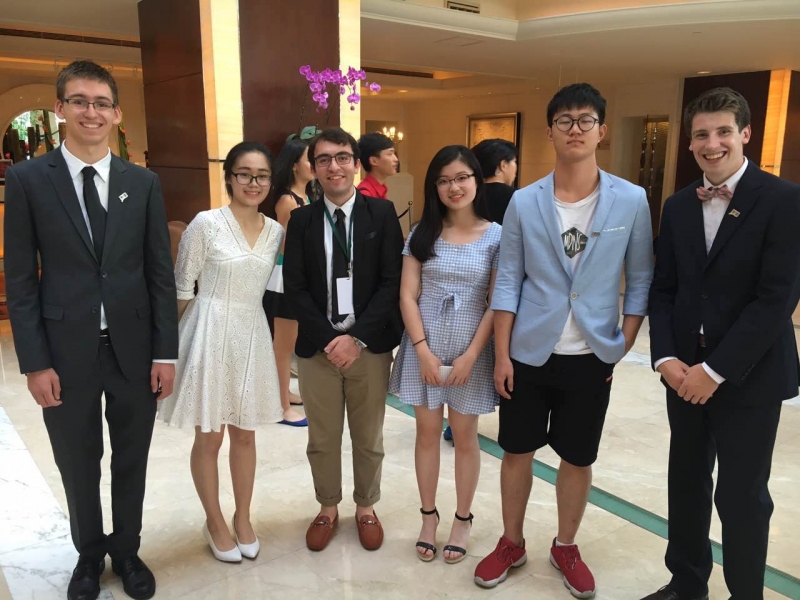 That being said, some of the most exciting times at JA China took place outside of the office. After preparing a curriculum and getting sponsors, the JA China team would run programs for students. These students could range from middle school students to college students. The final project for the interns at Junior Achievement China was assisting in the coordination and running of the Global Connection Program which brought high school students from Connecticut to Shanghai where they worked in teams with Chinese high school students to complete various business-related activities. I got the chance to emcee the welcoming dinner and the closing ceremony, as well as act as a tour guide for the American students in Shanghai and mentor one of the student teams.
On the weekends, I traveled. I went to visit the other HCSIP students in Beijing. During my high school sophomore summer, I lived in Nanjing with a host family. So, one weekend, I took a high speed train to reunite with them in Nanjing. I visited one of my block-mates in Hong Kong, and I also had the chance to spend a weekend in Japan. On the way home I spent a few days with friends in South Korea. The summer flew by, and I'm looking forward to arriving in Cambridge soon.
Thank you to everyone at the Harvard China Fund who made this trip possible!
This blog post was written by Alec Grigorian, Harvard College Class of 2019 and participant in the 2016 Harvard China Student Internship Program.