by JOHN S. ROSENBERG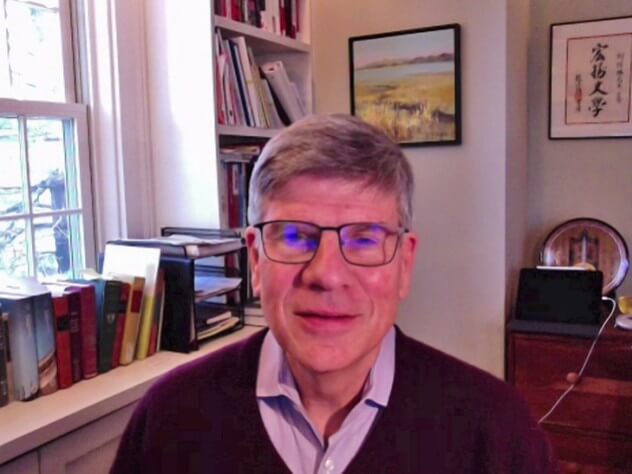 On Monday morning, March 23, Harvard students' experience with newly remote styles of learning began, as spring recess ended but classes resumed with their students dispersed around the globe, exiled from campus by the coronavirus pandemic. Before the 9:00 A.M. meeting of "The Business of China" (General Education 1101, within the category Histories, Societies, Individuals), Chang professor of China studies William C. Kirby, head teaching fellow Adam Frost, and Gen Ed "Zoom helper" Karen Galvez (course coordinator for the Program on General Education) were already logged into the Zoom telecommunications platform. Kirby, who is also Spangler Family professor of business administration, had posed an especially tricky teaching challenge for himself and his team. The course, focused on undergraduates, draws on his case studies, and the case-based pedagogy, from Harvard Business School (HBS)—and thus:
relies on cold-calling to prompt student interactions with their instructor, the content, and each other;
assumes there are common whiteboards on which to view developing themes;
incorporates polling to assess class sentiment; and
typically, accommodates outside speakers.
Please click here to read the whole article on the Harvard Magazine website.